By Steven Phang Keng Keon, MMC Gamuda MRT SSP Line (Elevated), Deputy Head of Planning
I'm often asked what is it that I actually do for the MRT SSP Line.
In simple terms, my job is to ensure the project is of high quality and completed ahead or on time and within budget.
A major part of this is managing the 469 Key Access Dates (KADs), or line-wide project checkpoints, so that each work package is on track.
This requires a lot of coordination and know-how of operational management to not only determine realistic KADs based on the type of equipment, sequencing and utilities on the ground, as well as the Safety, Health and Environment (SHE) practices and traffic management, but also to balance cost control against scheduling control.
This may vary from:
Optimising the utilisation of available resources
Reducing errors in approaches and duplication of works; and
Reviewing work plans to check on actual achievements
As a result, we are involved from inception, designing, tendering and procurement, construction, testing and until the project handover; looking at the bigger picture and communicating with consultants and other departments like Approval Management Department, , Contract and Commercial Department and Project Management Department (PMD) to bring together the various work sections — Civil, Stations and Systems.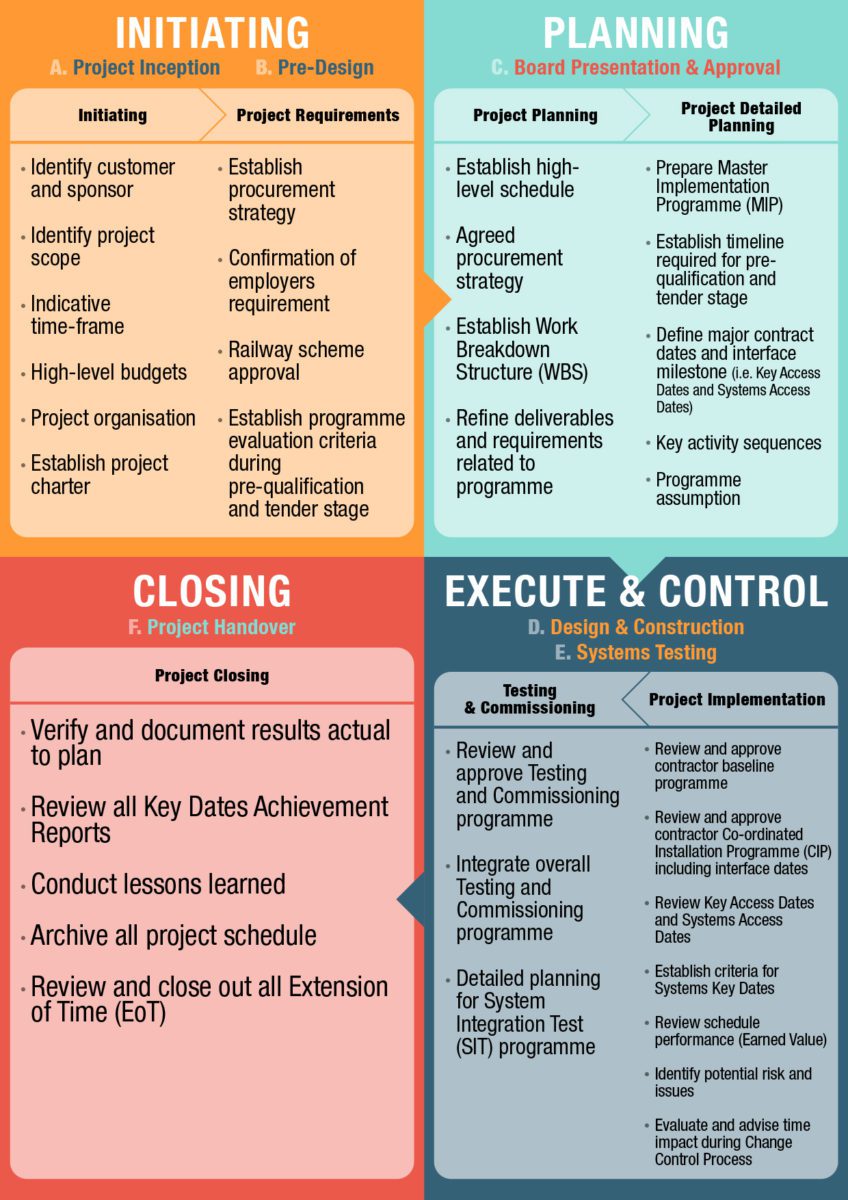 The thing I love most about my job is that it is very demanding and intricate. I have been doing this for 18 years now and each project has different rules, regulations and requirements.
There are various methodologies that can be used, so you have to have an intimate knowledge of the sequencing and timing of each step to be able to manage and plan the project.
And that's something only exposure and experience can bring.
Of course, on a project of this size, there are many challenges which we are responsible for finding solutions and adjusting the resources and timelines within the acceptable goal.
This is where our early detection of delays and recovery programmes are vital.
Daily challenges:
1. Ambiguities found within the contract requirements and compliances
If at any time an ambiguity or discrepancy is found in the contract documents leading to a delay in works, the contractor is required to write in, specifying the ambiguity or discrepancy.
If the explanation, adjustment or instruction from us does not amount to any variation in the contract, then the contractor is not entitled to any extension of time or costs.
2. Delay in handover and site access from Civil to Systems
Civil planners which are based on site will provide feedback on project milestones to PMD and Planning and Programming Department at HQ.
Besides, we also have KAD Management Workshops each month to resolve any access issues, and from there management can decide whether to defer certain KADs by three months.
In the event that contractor's work fall behind this approved 90-day buffer zone or Time Risk Allowance, as the project integrator we have the right to request a revised baseline programme and approve it after they have performed a level of due diligence.
However, we only exercise this right when senior management considers it necessary.
3. Notice of claim from Work Package Contractors for reimbursement of funds and damages
The Planning and Programming Department will assess any claims from contractor's and will collaborate with the Contract and Commercial Department to provide a final report for management to make the decision.
One aspect of our planning that has been of great benefit to the entire project was the early awarding of both the Civil and Systems packages.
It meant that all Systems contractors could feed the Systems requirements like the weight and scope of the train to the Civil contractors as early as possible through our Building Information Modelling (BIM).
Currently, we are pleased to say that all Systems contractors are in the final stage of their design phase and are ready to take over from the Civil teams in the next 12 months.
Read more here.