Who We Are Is Defined By What We Do
Backed by an outstanding track record of delivering large-scale projects on time and fuelled by innovative engineering solutions that are reshaping the construction industry, MMC Gamuda has forged its own path as the leading project integrator of the country. Our highly specialised and capable team of experts has extensive hands-on knowledge, having played a part in some of the most iconic infrastructure projects in Malaysia.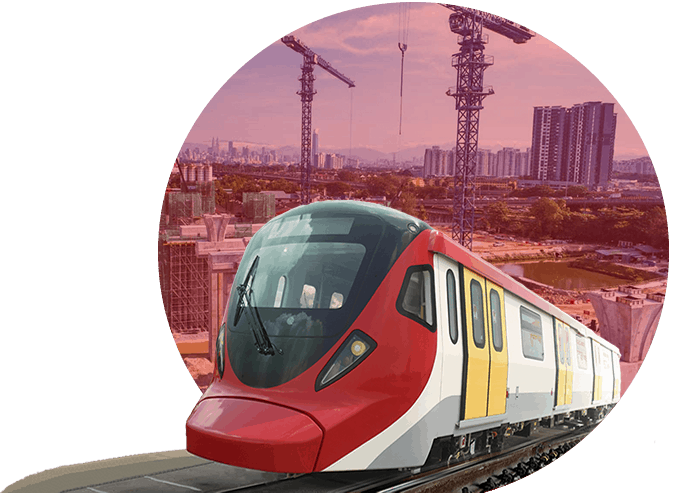 MITI LETTER
Approval to Continue Works during MCO 3.0
Continuation of MRT Construction Works Throughout the Extended MCO 3.0 Period 15 June 2021 to 28 June 2021
Klang Valley Mass Rapid Transit (KVMRT) Project
The KVMRT Project is a rail-based public transport network designed to radically transform the Greater Kuala Lumpur through improved connectivity, propelling it into becoming one of the top-most liveable cities in the world. The first MRT line in Malaysia, the MRT Kajang Line (previously known as the Sungai Buloh-Kajang Line) was delivered on-schedule and within budget by MMC Gamuda and launched in July 2017.
Following the successful completion of the MRT Kajang Line, MMC Gamuda successfully tendered and won the bid for the next phase of the MRT project, the MRT Putrajaya Line (previously known as the Sungai Buloh-Serdang-Putrajaya Line), which is targeted for completion in 2022. This line spans 56.2km with a total of 36 stations and will serve a population corridor of around 2 million people.
Talent Development
Our People Are The Driving Force Behind Our Achievements
We uphold an organisation-wide commitment to sustainable, effective human resource management and growth, through various training initiatives and programmes such as the KVMRT Training Centre (KVMRT), and the Tunnelling Training Academy (TTA).
Localised Lane Closures Along Jalan Raja Muda Abdul Aziz
Start Date: 25 March 2022 | End Date: 30 April 2022
Reason:
KUALA LUMPUR, 24 March 2022: MMC Gamuda KVMRT (T) Sdn Bhd (MGKT) wishes to announce the implementation of localised lane closures along Jalan Raja Muda Abdul Aziz near Wisma Perkeso and near Setia Sky Residence between 25 March 2022 and 30 April 2022.
Start Date: 25 March 2022 | End Date: 30 April 2022 Reason: KUALA LUMPUR, 24 March 2022: MMC Gamuda KVMRT (T) Sdn Bhd (MGKT) wishes to announce the implementation of localised lane closures along Jalan Raja Muda Abdul Aziz near Wisma Perkeso and near Setia Sky Residence between 25 March …