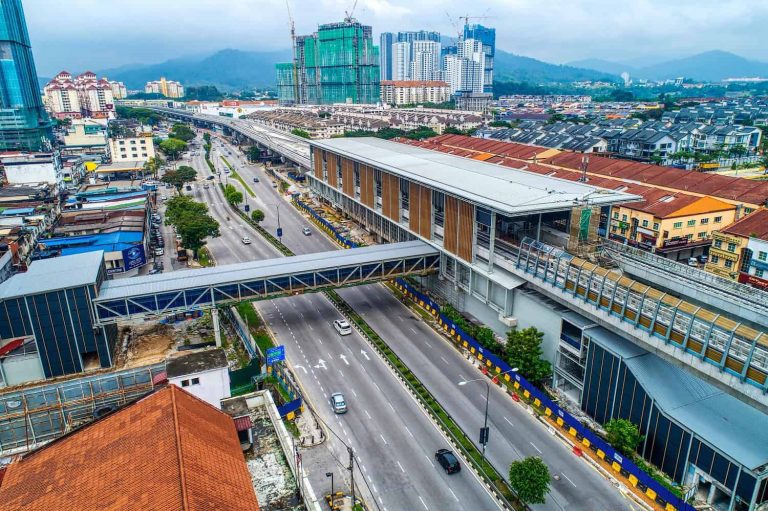 With the aim of being instantly recognisable, the exterior design of each elevated station embodies the iconic and uniquely Malaysian "Serambi" concept which garnered the Public Services Architecture Award at the 2019 Asia Pacific Property Awards. Combining pleasing aesthetics with the practicality of a functional infrastructure node, the design evokes a positive feel that is timeless.
By striking a delicate balance between cost, constructability, maintenance, commuter convenience and safety, each station aims to provide a pleasing and comfortable "travel experience" which begins at the entrance and carries on till boarding a train, all infused with a distinctly Malaysian flavour!

The island platform design (also known as a centre platform) is a station layout arrangement where a single platform is positioned between both bounds of tracks within a station. They can serve passengers in both directions from a single platform requiring only one set of supporting infrastructure (toilets, ticket offices, kiosks).  Facilities such as escalators, elevators, shops, toilets and waiting rooms can also be shared between tracks rather than being duplicated or present only on one side.
Passenger convenience is another significant consideration as it simplifies transfers between tracks without the need to use a walkway overhead or below the platform. Wheelchair access in particular is easier using this station platform layout.

The side platform design is a station layout arrangement where a platform is located on either side of a pair of tracks that run through the middle. While requiring more support infrastructure than island platforms, the side platform design allows for a larger waiting area for passengers, as each track has its own platform. During periods of heavy commuter traffic for example, any congestion on one platform will not affect riders on the opposite track.
Commuter flow through the station is also quicker as there are duplicate sets of escalators and lifts serving each platform instead of having to be shared like in the island platform design.