Designing and constructing the elevated portion of the MRT SSP Line is no mean feat.
It is a multi-disciplined collaborative effort within our team of highly experienced engineers, designers and systems experts to bring to life each segment of the railway.
These sections, commonly known as Segmental Box Girders (SBGs), are customised, marked with serial numbers and fitted based on its unique angle of curve and placement.
Here is an overview of how the SBGs are constructed once the foundation and piers are in place.
Common methods for standard span crossing
A standard span typically consists of 13 units of SBGs with a total approximate length of 40 metres.
For the MRT SSP Line, there are two types of methods to construct a standard span viaduct:
Launching Gantry (LG) — a special-purpose mobile gantry crane.

Falsework System Supported by Crane or Crane Erect Trestle (TSC) — a temporary tower-like structure used to form a platform where SBGs are placed before jointing.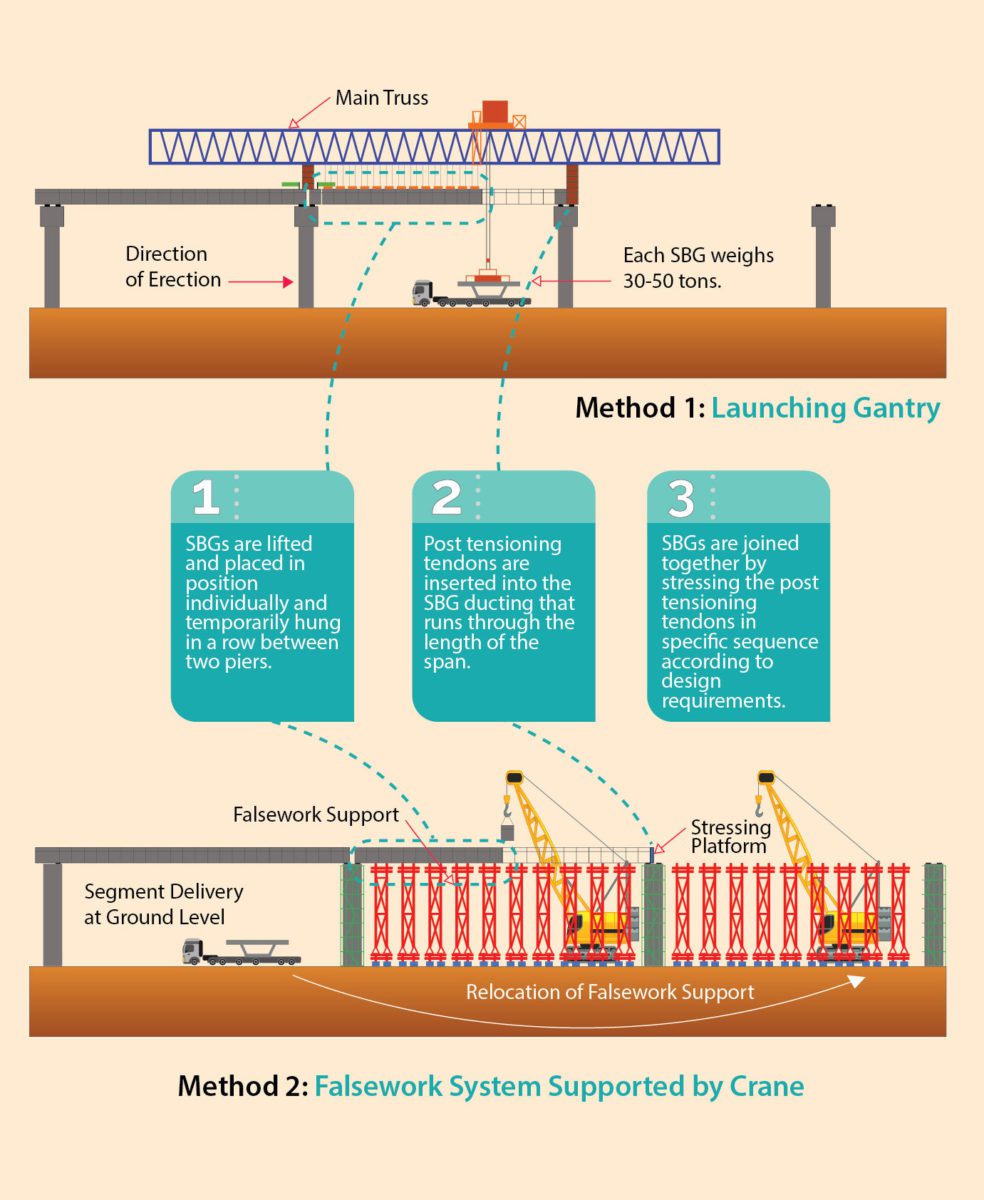 Once all the SBGs are in position, steel cables or tensioning tendons are threaded through ducts cast inside the segments.
These cables are then stressed in such a way that all pre-cast segments are compressed together to form a continuous, standard span of the viaduct.
Around 78 per cent of the MRT SSP Line elevated viaduct will be constructed using the standard span method.
Common methods for long span crossing
Long span crossings are needed when the distance between two piers is above 40 metres — usually across highways, rivers, rail tracks or other existing structures.
There is one currently taking place along Jalan Kuala Selangor near the IGB International School where the viaduct crosses over 13 lanes (6 bounds) to Damansara Damai area.
It will cover four spans between SB03 and SB07 measuring a total of 312m in length and is due for completion in January 2019.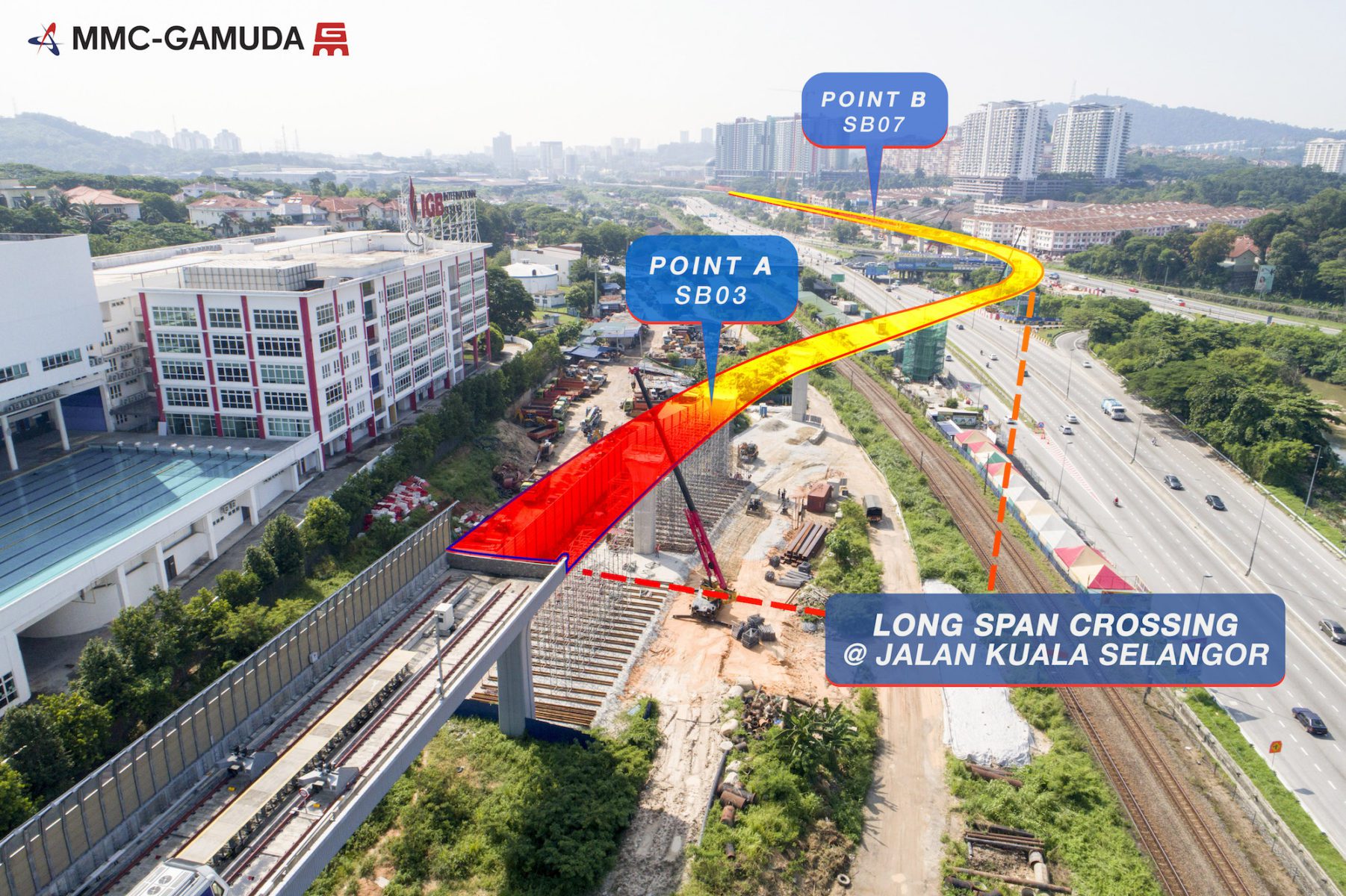 Two variations of the Balanced Cantilever Segmental Launching (BSCL) technique can be used for long span crossings, which comprise 12 per cent of the elevated viaduct. Meanwhile, the remaining 10 per cent is a combination of at-grade viaduct and cut and cover sections.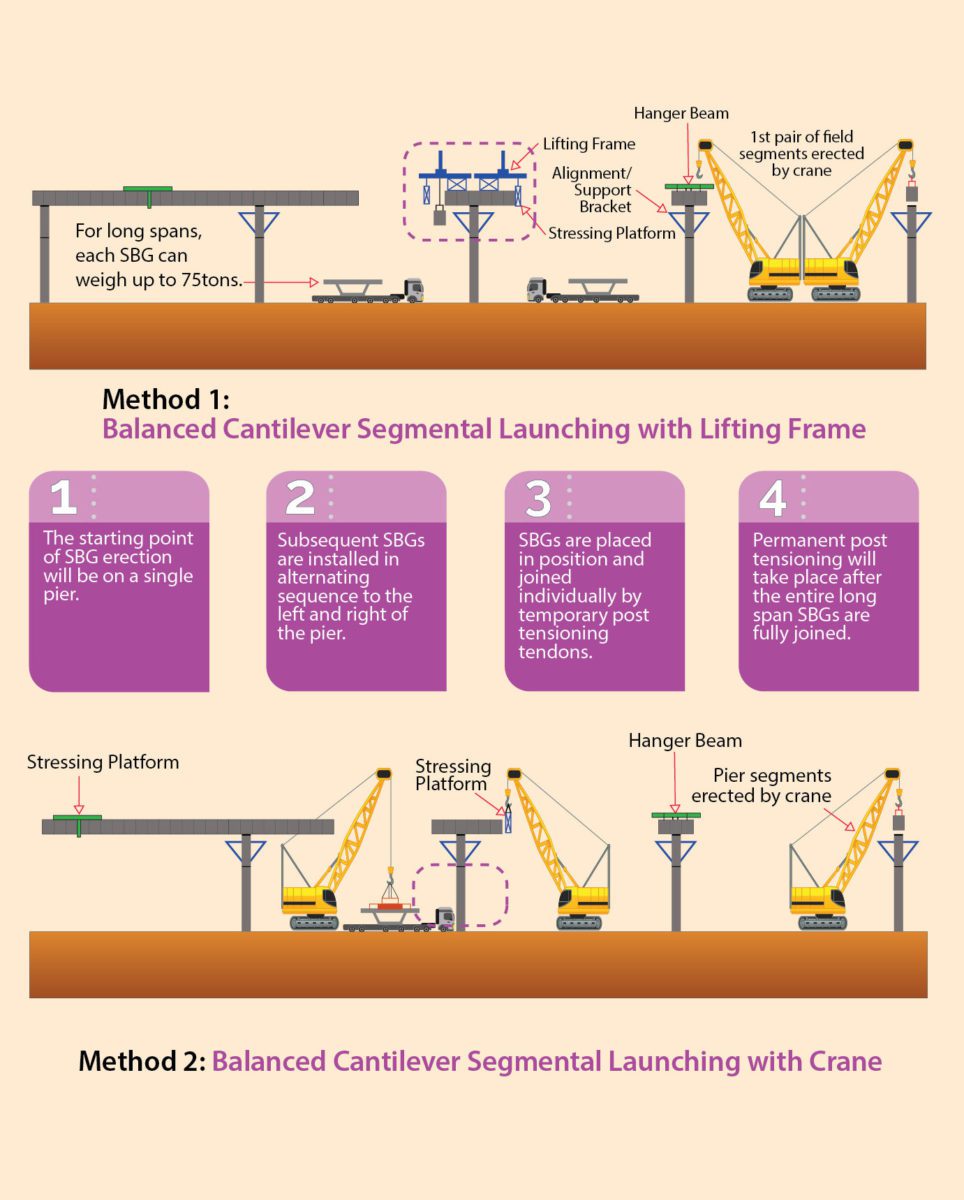 When the viaducts are completed, track-laying works will then take place to form the 38.7km elevated section of the MRT SSP Line.