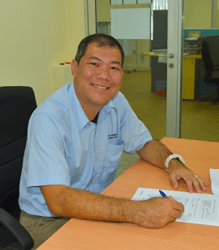 LTan Wen Loong Deputy General Manager for Northern section of the MRT SSP Line
Tan Wen Loong, the Deputy General Manager for the Northern section took time out of his busy schedule to speak to us about the construction challenges along Package V202 specifically the alignment along Kepong Sentral and the construction of the viaduct under the Middle Ring Road 2 (MRR2) highway. He heads the project management team on-site to ensure all works are completed within the time frame.
"I've been with Gamuda Engineering since 2004, and have worked on MMC Gamuda Projects for 15 years. Starting with the SMART project and then the Electrified Double Track Project (EDTP), I later went on to begin work on the MRT Kajang Line in 2013, and am now proud to be working on the MRT Putrajaya Line.
"In regards to the V202 viaduct under the MRR2, works on-site for this structural giant started sometime towards the beginning of 2017. But even before construction works could begin, many submissions and a lot of groundwork had to be done, since larger construction units always come with bigger challenges. Before we dive into the details however, we must first understand what a viaduct is," shared Wen Loong.
What is a Viaduct?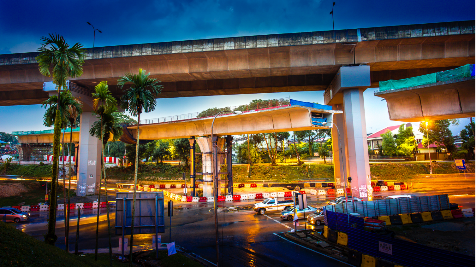 Viaducts are a type of bridge but it's important to note that not all bridges are viaducts. While bridges are structures which are built to cross physical obstacles like a valley, waterways or roads, viaducts on the other hand, are a type of bridge that is made of multiple standard or long spans. With a structure of such enormous proportions, the construction along the Kepong Sentral-Jalan Kepong area brought its own set of very specific challenges, like deciding why the viaduct should run underneath the MRR2 highway and not over it.
"We had many discussions about the constructability of the viaduct, with two of the major concerns for us being time and cost. Of course, building the viaduct above the highway was a workable option but this would have required much higher piers, needing three or four lifts (instead of two) to reach the desired level. Aside from adding to construction time, the cost would have ballooned as it would have taken a considerable distance to bring the viaduct back down to station level height (acceptable level). This is because the cost increase would not be specific to a single segment and limited to one or two piers but also seeps into affecting other sections thus involving an entire stretch," clarified Wen Loong.
Bored-Pile Works
"Even at the piling stage there were challenges as we were dealing with head room concerns since our bored piling machine normally requires a head room of at least 24 metres, depending on the depth of the pile, but underneath the MRR2 highway, we only had about 18 metres to work within. We overcame this hurdle by using a bored piling method called Reversed Circulation Drilling (RCD) which allows for lower head room, but increased production time to about 3 weeks compared to the usual bored piling method which would take a mere 4 to 6 days for a single pile," said Wen Loong.
Viaduct Construction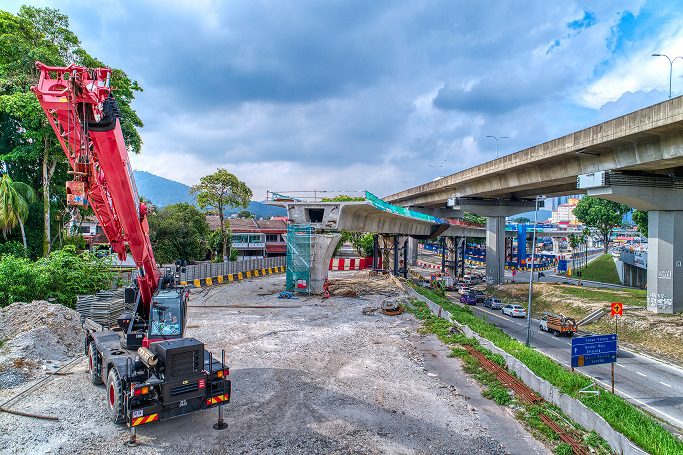 "Once the foundations and viaduct piers were constructed, Segmental Box Girder (SBG) launching was done utilising a crane erection balanced cantilever method and trestle system at both ends of the long span. The pre-cast segments, averaging between 28-46 metric tonnes each, are lifted and placed into position in pairs by crane before jointing. Following which, the next pair of pre-cast segments is installed and the process is repeated until the end of the span is reached.
The trestle system meanwhile was used to construct both ends of the long span, where a temporary tower-like structure called a falsework support forms a platform which SBGs are placed on before jointing. Post-tensioning tendons made of a large number of cable strands are then threaded into ducting inside each segment which runs through the length of the erected span. The cable strands are then "stressed" so that all the pre-cast segments are compressed together to form a continuous long span for the viaduct," explained Wen Loong.
Pre-Construction Checks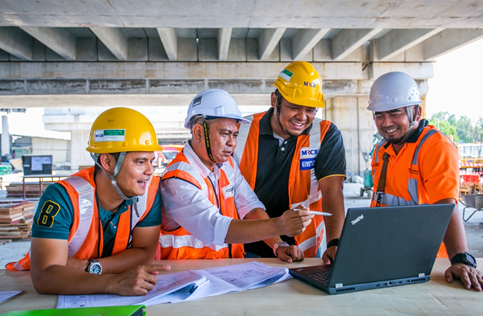 "All SBG lifting for the elevated guideway of the MRT Putrajaya Line follow stringent safety procedures. The initial SBG lifting process and Launching Gantries (LG) for each package are inspected by the Department of Occupational Safety and Health (DOSH) to ensure safety requirements are followed through. Only after safety certification by DOSH, are launching of the SBGs allowed to proceed and subsequent SBG lifting is strictly inspected by the MMC Gamuda project team and consultants," stated Wen Loong.
"This is an area that we look into with much care and detail, thus there are multiple rounds of checks that are carried out prior to the start of construction. An exhaustive job safety analysis involving all relevant parties including safety checks, procedures and a thorough evaluation of any risks are also completed prior to the start of the works via a Method Statement (MS). The MS is then reviewed and approved by consultants, safety specialists and the project team, before any Work Package Contractors (WPCs) can begin carrying out lifting works," Wen Loong added.
Worksite and Public Safety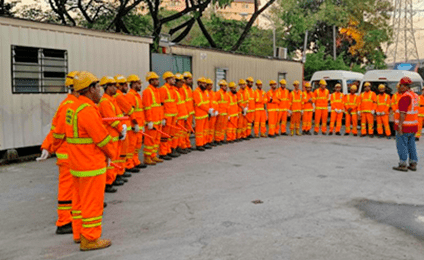 "During the actual works, we conduct regular tool box talks on safety (which we call pre-task talks), to make sure all personnel involved know and understand their roles and are aware of the safety measures in place. Work permits that allow us to work at certain heights are obtained and all personnel are required to have a valid CIDB card and KVMRT safety passport. Additionally, this type of work affects the public as well since road closures are required and lifting works are only to be conducted at night. Effective and regular communication is therefore really important when we begin working on the viaduct."
"The safety measures implemented don't stop once the SBG lifting is done. Once a viaduct is completed, handrails with safety netting are constructed to prevent objects on the guideway from falling down. The handrails are on a temporary basis until a parapet is constructed which is also to prevent objects falling on the road while also serving as a protective barrier for the emergency walkway. A few layers of safety netting are also installed below the viaduct, over locations with public access to prevent debris fall as well," Wen Loong further shared.
These are just a few examples of the challenges overcome by MMC Gamuda throughout the construction of the MRT Putrajaya Line throughout the Klang Valley. There are many other details that had to be worked out for the completion of various segments and piers that are part of the overall process of construction.  Ensuring a smooth process flow requires a meticulous focus and attention to detail in the planning stages and a dedicated workforce that adheres to all aspects of safety as well as efficiency during the work itself. Fueled by the expertise of experienced members of our project team like Wen Loong, MMC Gamuda is committed to delivering a world-class rail system to the nation.